Next: Equilibrium of system of Up: Application Problems Previous: Portfolio optimization

Let

be the coefficients of a finite impulse response (FIR) filter of length

. The filter output signal
is defined by the input signal

, by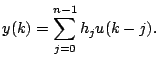 The function of the frequency response is

defined by

where

and

is the frequency parameter. There are several different FIR filter designs, see, for example [5].

In this section, we consider the minimax dB linear phase lowpass FIR filter design,
where

and

For simplicity we assume

is even.

Note that this problem has infinite constraints. Subsequently, we discretize the frequency parameter

to obtain a finite-constraint approximation. Moreover, there is a nonlinear term

in the first part of the constraints. To convert it to a second order cone constraint, we introduce

such that

We take the following approach,
for

and

Now, we obtain the problem in SOCP form,


where
,

We use the following data in our test cases.

Example 5. Given
,

, and

We descretize the frequency parameter

by the uniform step
We choose

as our test samples.
More details about this problem and the interior point approach can be found in [19].
---

Next: Equilibrium of system of Up: Application Problems Previous: Portfolio optimization Hans D. Mittelmann 2003-09-10